Who we are
Mint Type is an independent type foundry located in Kyiv, Ukraine. Initially it was founded by Andriy Konstantynov in 2004, becoming the first Ukrainian type foundry to present itself on the international digital type market.
In 2016 Mint Type was reinforced by Oleh Lishchuk from Odesa. Together we aim at creating high-quality digital typefaces with mandatory inclusion of Cyrillic character set.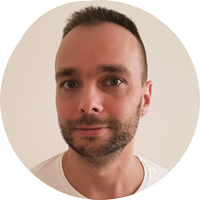 Andriy Konstantynov
Born in 1981, founded Mint Type in 2004.
Originally a graphic designer with education in IT, in 2015 obtained a degree of Master in Advanced Typography (Màster propi en Tipografia avançada) in EINA, Centre Universitari de Disseny i Art de Barcelona.
Devoted to creating body text typefaces in all of their diversity.
Oleh Lishchuk
Born in 1984, joined Mint Type in 2016.
After releasing several successful typefaces, still considers himself an apprentice in search of his own style.

---
What we do
Besides creating typefaces for the retail, we:
Consult, assist or perform development of the Cyrillic character set for existing Latin typefaces;

Create custom typefaces.

Please feel free to contact us using the link at the bottom of the page.